Welcome!
Here are some photos from some of the events from this past year.
Elaine Kennedy was our first guest speaker in March, 2009. Her topic was "Alternatives to Pesticides and Environmentally Friendly Gardens".
Diane Lunan from Marlin Orchards, Cornwall, spoke on "New Varieties and Trends in Roses" at our April 2009 meeting.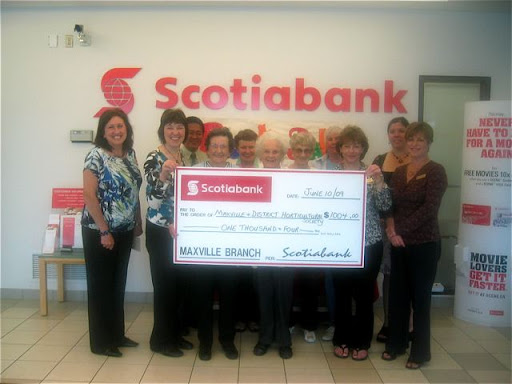 Scotiabank, Maxville Branch, matched the profits made at our annual May Plant Auction.
An early Spring 2009 shot of the North Piper garden planted and maintained by volunteer members. We also do the garden at the Maxville Post Office and the Sportscomplex as well as the six planters at the four entrances to the village.
Our bus trip on May 27th took us to Rideau Woodland Ramble, Lunch in Merrickville and a stop at Make it Green Garden Centre.
Residents from the Maxville Manor enjoy visiting our Flower and Vegetable Show each year.
An example of the beautiful exhibits at our Flower and Vegetable Show in August 2009.